Turkey Fryer Safety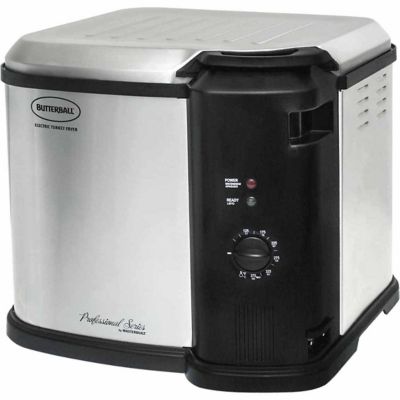 If you've ever tasted one, you understand full well the fascination with deep frying a turkey.
Not only is it a faster way of preparing the bird than traditional oven or smoker approaches, but there's also no substitute for the irresistible flavor and juiciness that deep frying provides. Not to mention the fact that it helps free up the kitchen for the smorgasbord of side dishes that typically accompany the bird.
But while frying is a reliable, proven way of putting a delicious turkey on the table, it's also an annual source of countless accidents and near-misses. All because people don't take the proper precautions.
And, if there's one thing that Life Out Here teaches us, it's the importance of preparedness – which is an idea that can prove very important when dealing with gallons of scalding hot, 300-degree oil over an open flame.
Thus, we wanted to offer a few guidelines, courtesy of the U.S. Consumer Product Safety Commission, to help make sure that your deep-fried turkey is the star of the table – not a report on the nightly news.
First things first.
The first step is to make sure that your turkey is completely thawed before cooking. That's because the moisture in even partially frozen meats can result in hot oil splashing out of the pot. (Which is why you should also make sure your turkey is completely dry before adding it to the oil.)
Next, it's important to know exactly how much oil to add to the pot. Because too much will result in spillage – which, in the words of John Drengenberg of Underwriter Laboratories, will effectively turn a turkey fryer into "a vertical flame thrower." Follow the manufacturer's instructions to determine just how much oil to add to your fryer. If the instructions aren't available, you can start by placing the turkey in an empty pot, then filling with water until the turkey is covered by about 1/2 an inch. Remove and dry the turkey, and mark the water level. Then simply dump the water and fill it up to the mark with oil.
(At this point, we should point out that it's important to wash your hands and any cooking surfaces thoroughly when dealing with raw poultry, to avoid cross contamination. Salmonella is a side dish no one's looking forward to!)
Getting started.
Before you even set up your fryer, you should take time to read the manufacturer's instructions. (Yes, we know those of us who live Out Here are a self-reliant bunch, but this isn't the time for jury-rigging or going "by instinct." While safe when used properly, a turkey fryer has the potential to cause severe damage and injury – and should be treated with the proper respect.)
Be sure to keep your fryer off of wooden decks, out of the garage or carport, and a safe distance away from any walls, fences, structures, eaves, trees, etc.
Be sure the fryer is set up on a level surface, and be sure to center the pot is over the burner on the cooker.
Keep an eye on the weather, and never operate a fryer in the rain or snow. Also, make sure that any wind is blowing the heat of the flame AWAY from the propane tank.Make sure there are at LEAST 2 feet between the propane tank and the fire.
Be sure to always keep the fryer in full view once it's turned on. Ideally, the fryer is a two-person operation,because turning your back on a hot fryer for even a moment can be dangerous for you, your neighbors, and your property.
Once the fire is lit...
Carefully monitor the temperature of the oil. If ANY smoke is seen coming from the hot oil, turn the burner off immediately, asthat means the oil is too hot. (It's worth noting that the majority of incidents reported come at this stage – while the oil is being heated, and before the turkey is even added.)
Always raise and lower food into and out of the oil SLOWLY, to avoid splatters and burns. (Ideally, you should turn the fire OFF when adding or removing the turkey from the oil.)
Also remember to cover any bare skin when adding or removing food from the oil. That means long sleeves, heavy oven mitts, and goggles for your eyes as well.
Keep children and pets away from the fryer at all times.
Lastly, keep a grease-rated fire extinguisher on hand at all times. NEVER try to extinguish an oil or grease fire with water.
Deep frying a turkey can be a bit of effort, but the tasty results are definitely worth it. And following these few tips should help ensure that your Thanksgiving Out Here is as safe – and delicious – as possible.
And, if you're still skeptical about frying a Thanksgiving bird outdoors, you can always try one of our indoor turkey fryers, which can cook up to a 20-pound turkey from the comforts of your cozy kitchen!