Setting Up a Deer Blind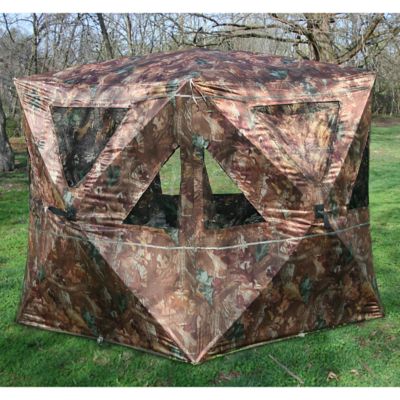 If you have ever been busted in a deer blind then you most likely were not following one of these crucial guidelines when setting up your blind. Having a decent setup to hunt from is even more important than your aim. A poor blind setup will drive away your targets before you ever get a chance to look at them.
Set up your ground blinds early
Brush your ground blind in
Have your ground blind out of line of sight
Dont keep all the windows open
Eliminating odors from the Ground Blind
Set Up Early!
Setting your ground blind up early, this single act can make or break youre your hunt. It is so important to allow animals to get used to your blind being there neighborhood. To make the animals in the area more comfortable with your blind you will need to give them time. Try to have your blinds set up at least 2 weeks in advance.
If you don't want to leave your expensive deer blind laying out in the middle of the forest you can use this technique and knock out two birds with one stone. A couple of weeks prior to your hunt clear out the area you intend to use for your blind set-up. Take brush, sticks and leaves from the area and build up a structure roughly the same size as your deer blind should be. This will allow the animals in the area to get used to something that resembles your deer blind, and the materials you used will be great to brush in your blind when you return.