How to Maintain a Power Supply with a Standby Generator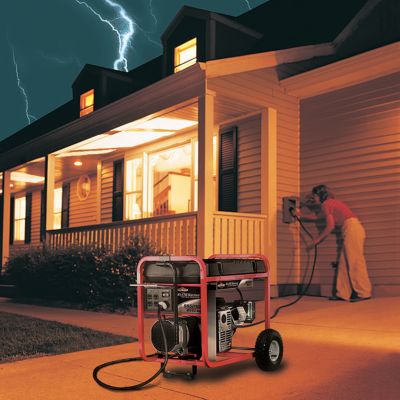 When storms knock out the power, it's usually when we want electricity the most. A portable generator can help weather the storm, but how do you choose?
First, size up what you need it for, says John Gird, energy analyst for the Southern Maryland Electric Cooperative. Then, oversize it.
"It's worth it in the long run," Gird says. Paying a little more is better than overloading and ending up back in the dark.
Because a generator is for emergencies, Gird says, stick to a few key appliances: heater, refrigerator, lights, maybe a microwave, and your well pump.
"It's not meant to run the house," he says, but a few basics will keep you warm and fed until the power comes back.
But even a few appliances can burn lots of power. Check wattages and look at generator manufacturers' sizing charts to gauge how much power you'll need. When shopping, look for the generator's rated output for longtime power and the surge rating for when motors rev and power levels spike.
Most homes running a few items will be fine with a mid-range unit, Gird says, but they may need to juggle appliances to keep from overloading. For some, that's reason enough to buy a heftier machine.
Check out fuel capacity and running times, too. Look for something that can run for 10 to 12 hours at half-load, Gird says. Then you won't end up fighting a blizzard in the middle of the night to refuel.
Like cars, generators come with options that push up the price but make for a smoother ride. Basic models start with a pull cord. More expensive ones start with a key or a button. They're handier, but they also require batteries to start. Because you don't want a dead battery in a power outage, Gird recommends keeping it plugged into a trickle charger when you're not using it.
If you're powering electronics, voltage regulators and idle controls are important. Even microwaves and refrigerators may have digital displays that could fry in a surge.
And just like with cars, kick the tires. Most generators are heavy and don't have wheels. If you'll need to move it, think about wheel kits. Basic ones roll fine on a hard surface. If you'll be lugging it through the mud, consider beefier tires.
And where to put it? Never in a basement, crawl space, or attached garage, Gird says. The exhaust may be worse than the weather. Keep it in a shed, out of the weather, ready to go.
One more thing: appliances such as heaters that don't plug into the wall need an isolation switch to disconnect from your utility company and into the generator. Call your electrician.
The right decisions when you buy can make all the difference in an emergency, Gird says, and can help your family outlast any storm.
By David Frey
Photography courtesy of Briggs & Stratton