Five Steps to Renew Your Lawn This Fall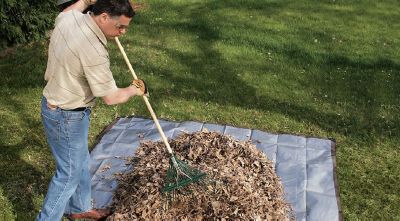 Your lawn takes a beating during summer. It's the setting for football games with the kids, fetch with the dog and countless family gatherings. And your lawn handles all of that in the sun and heat! So let's give the lawn a round of applause and some much-needed care with these fall lawn tips.
Rake Your Lawn
Rake up all of the fallen leaves, and either bag them or add them to the compost pile. Leaving piles of leaves on your lawn through the winter can encourage lawn diseases.
Aerate Your Soil
All that foot traffic may have compacted your lawn, making the soil hard and unhealthy. When soil is compacted, its ability to absorb water and nutrients is negatively affected. Rent an aerator to remove numerous "plugs" (soil and grass with its roots) from your lawn; this will allow valuable water and fertilizers to get to the grass roots. Leave the plugs on the lawn to further amend your soil, or add them to the compost pile and mix them in thoroughly.
Fertilize Your Lawn
Fall is the perfect time to fertilize a lawn. In fact, if you only fertilize once a year, this is the most important time to do it. Cool-season grasses in the northernmost areas of the United States can be fertilized in September, while warm-season grasses can be treated in late September or early October. Choose a fertilizer that is high in nitrogen and potassium, which will encourage your lawn to develop deep roots while it's dormant over the winter. Always follow package directions and avoid over fertilizing, as applying too much fertilizer can damage the lawn and contribute to chemical runoff in the groundwater supply.
Water Your Lawn
Continue watering your lawn during fall, especially if your area is experiencing drought. Start to decrease your watering as winter draws near; unless there is winter drought in your area, you won't need to irrigate during the cold months. Always follow whatever water restrictions or guidelines are in place in your area. If you need to water, remember to irrigate less frequently but more deeply to encourage deep grass roots. Light sprinklings don't do any good!
Mow Your Lawn
You'll probably mow your lawn for the last time in October, but if your area is experiencing late-season warm weather, continue to mow as long as your grass is growing. Never remove more than one-third of the height of your grass during any single mowing. Cool-season grasses (fescue, bluegrass, perennial rye) should be mowed at 2 in. tall, while warm-season grasses (Bermuda, St. Augustine, Zoysia) can be mowed at 1 in.
The attention you give your lawn this fall will pay off next year with healthier green growth—but remember to follow these tips in order to get the best results.