Woman Creates Potpourri and Dried Flowers on Her New York Flower Farm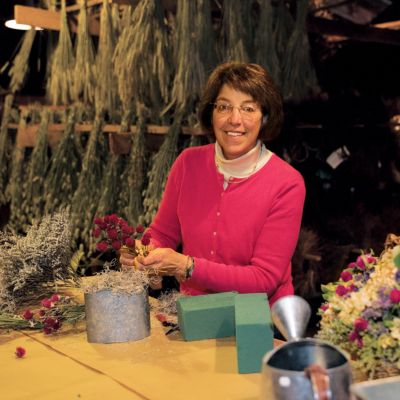 By Vicki Brown
Photography by Jason Houston
Memories of a Kentucky flower farm sowed the seeds of inspiration for Meg Southerland - and a new crop for her family's former dairy and poultry farm.
Flowers were grown, dried in an old tobacco barn, and made into potpourri, she recalls of the farm she noticed while working as a cooperative extension agent in Lexington, Ky.
So, when she and her husband moved their family back to the Northeast in 1992 and she began working on her parents' upstate New York farm, Southerland searched for a crop to fit between the you-pick blueberries and raspberries. Then she remembered that Kentucky flower farm, and flowers made sense.
Now, her fields at Gardenworks Farm in Salem, N.Y., are filled with color from hydrangeas, yarrow, globe thistle, silver king artemisia, larkspur, and other florals.
Racks of drying flowers fill the old dairy barn's hay mow (the top level where hay bales were stored); downstairs houses a gift shop and workshop area.
"I think the best part is that we see the full cycle from the small plants - some that we start from seeds, some from plugs - watching them grow, harvesting them, drying them, then working with what we've grown," Southerland says.
Flowers are planted in late May and early June and harvested from early July to mid-September. Customers can buy bundles to make their own arrangements, or completed wreaths and arrangements sold locally and online. Fresh flowers are sold to florists for special occasions.
Southerland loves her flowers, but she doesn't claim a favorite. "I'm more of a color person. I like the way flowers fit together more than having one favorite," she says. "I really like shades of pink, with shades of blue and green accents."
So she frequently combines pink and blue larkspur with purple annual statice and green Sweet Annie, an aromatic herb. "Honestly, my favorite ones look as if they are a garden in a basket," she adds.
However, wreaths are year-round bestsellers, Southerland says. "I think it's because people can figure out where they want something on a wall or door."
These days, most of the 275-acre farm in the Black Creek Valley is leased to a neighboring dairy farmer who grows corn and hay, but about 16 acres remain devoted to flowers, berries, pumpkins, and Christmas trees.
Seasonal events, such as hayrides to the pumpkin patch and a live Nativity, attract visitors to Gardenworks Farm year round.
"It's always taken a lot of work to farm," she says. "Now it takes more creativity."