Rain Gardening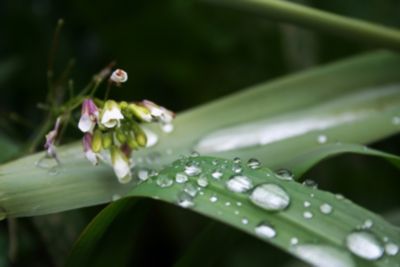 Rain gardens are defined as depressed or dug-out gardens which catch storm water runoff in order to prevent erosion and water pollution, as well as to reduce flooding and to resupply diminishing groundwater. They actually replace an area of lawn for more urban homeowners and help keep rainwater on the property where it naturally belongs. Rain gardens also prevent contamination of nearby streams, rivers, and lakes from what the EPA calls "nonpoint source pollution" from fertilizers, pesticides, pet wastes, grass clippings, and yard debris.
The garden's water source and usage of the water received are what makes it a rain garden. Its design and plant selection are able to withstand extreme moisture and higher concentrations of nutrients, such as nitrogen and phosphorus, frequently found in storm water runoff. Ideally, rain gardens are located close to where runoff takes place — near packed earth or cement walkways and driveways, in addition to patios — but at least 10 feet away from any homes to prevent flooding in the houses. The garden slows the water as it travels so that it will infiltrate the earth, preventing any gain in momentum/erosive power.
Where to Place Your Rain Garden
Observe how rainwater behaves around your property before choosing a location. You can place it near your home to catch runoff from the roof or further afield to collect surface water draining across your property. Make sure you do not place it over or near a septic system, in existing drain paths like swales and ditches, or under large trees (due to the tree's root system). You may choose to place it upslope of areas in the yard where water already collects in order to reduce the amount of water that flows into those areas. Sunny or partly sunny locations are best, but shade gardens are possible. Finally, before you begin installing your rain garden, check local ordinances and zoning regulations to be sure you are not violating codes, and always, ALWAYS, "call before you dig." Check your local listings for the numbers you need to make sure you will not disturb or disrupt underground utilities or oil and gas lines.
If you choose to direct roof water to your garden, you can disconnect a downspout near the ground and reroute it across a grassy swale, a rock-lined channel, or by extending the downspout across the lawn. You can also run an underground PVC pipe from the downspout to the rain garden. You may need to install landscape fabric, rocks, or bricks at the pipe outlet to slow the water's velocity. Alternatively, you can install a rain barrel at your downspout to capture roof runoff not only for your rain garden, but for other parts of the yard. Any rain barrel overflow can be directed to the rain garden using a grassy swale, rock-lined channel, or drip hose.
How to Install Your Rain Garden
The slope of your land will influence the depth of your garden. Using two stakes with string, you can measure the slope. One stake should be on the uphill side and the other should be on the downhill side. Tie the string at ground level on the uphill stake and, keeping the string level, tie it to the upper part of the downhill stake. Using inches (for consistency), divide the height of the string from the ground on the downhill stake by the distance between the two stakes, and multiply the result by 100. This final number is the percentage of slope. If slope is less than 4%, your garden need only be 3-5" deep; a 5-7% slope indicates a need for a 6-7" depth; and an 8-12% slope indicates a need for an 8" depth. Slopes over 12% are not appropriate for a rain garden, and a depth of greater than 8" might hold water too long.
In both the self-contained and under-drained rain gardens, the ground must be excavated and have planting media brought in that is clean and weed-seed free. The local conditions of the surrounding soil will determine whether you choose to use a liner. The success of either type of garden is greater when you begin with small plants and allow them to adapt to the conditions as they grow. Using plants with deep, fibrous roots provides more cleaning and filtration benefits to the environment. Water every other day for the first couple of weeks if it doesn't rain until it is growing well on its own.
Choosing What Type of Rain Garden
If you want your rain garden to be self-contained, you should select plants able to tolerate inundation for more extended periods. The surface needs to be drained within four hours even if the soil is still saturated. Soils should be emended with porous planting media up to an 8" depth. Less soil emendment means a need for plants with a higher wetness tolerance in the lower part of the garden, but plants in the upper regions and around the edges need not have as high a tolerance.
If your garden has less than 4' of clearance to the seasonal mean high water table or is adjacent to contaminated soil areas and the cleaned water could become recontaminated by coming into contact with adjacent native solids, it should be under-drained rather than self-contained. An under-drained garden needs highly porous planting media and drains installed beneath the surface to carry the cleaned rainwater away from the garden. Plants in this type of environment should be able to withstand both flood and drought conditions. Surface drainage after a storm event should happen within two hours.
Finally
Native plants are more adaptive to locality, but other non-invasive plants can be good choices as well. Most gardens available for review use trees, woody shrubs, or herbaceous perennials — not because annuals are not possible, but because they have been designed for low maintenance goals and habitat instead of aesthetics and color. Some annuals can be used for a higher maintenance rain garden. Obviously, rain gardens are very well suited to areas of the country where there is a high rainfall per annum for the reduction of pollution, but can be helpful in drier climates as well to keep what little rain falls there to the immediate ground area and minimize runoff. You will have to do more manual watering in a drier climate, but the benefits could still be enormous in the long run.