Welding Safety Guidelines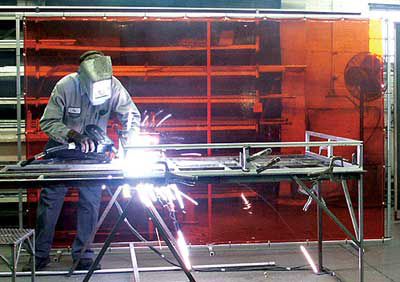 Welding offers unique utility, whether quickly repairing a critical piece of equipment or adding a few extra tweaks to the hot-rod in the garage.
Ignoring essential safeguards, though, can turn the nearly indispensable tool into a serious liability. Blindness. Unexpected fires. The potential for explosion.
Eliminating risk, even with a 100-year-old technology, begins with the most basic action. Read the product manuals, advises Ray Blew, president of Thoroughbred Industrial Cylinder Exchange in Lexington, Ky.
It's a step that, unfortunately, too few people follow.
Even welding pros can make a mistake. Anyone using an arc-welder with their back to a light-colored wall makes one of the most common errors, Blew says - even if they're wearing the proper welding helmet.
Light from the welding arc can bounce off the wall's surface, past the user's neck and into the helmet, where it reflects off the inside of the welding helmet lens. The ultraviolet and infrared rays damage the eyes, a short-term but uncomfortable problem.
"People have no idea how it happens," Blew says. Light-colored roll-up shop doors, when closed, represent a common culprit.
Another frequent error repeats itself in many workshops. At the end of the workday, it's common for someone to turn on only a cutting torch's oxygen tank, using the pressurized oxygen to blow a day's worth of dust off their clothes.
They don't realize they're impregnating their clothing with a dose of pure oxygen. A static charge from a flannel shirt or a spark from a light switch can ignite a terrible, hot flame, Blew says.
"The person becomes the fuel for the fire."
Those who might question the danger should consider how a cutting torch works, Blew says. The initial flame burns at several hundred degrees but the real heat arrives with the addition of pure oxygen, which raises the temperature to 5,720 degrees.
Essential care, however, doesn't begin once a welder goes to work. It starts when they pick up or refill welding cylinders, no matter if it contains oxygen, acetylene, or shield gas, Blew says.
Many people ignore the essential rule, which is using the screw-on metal cap that protects the cylinder valve, Blew says. People often misplace the cap or just ignore it, not appreciating that welding cylinders represent a far different hazard than common propane tanks, he says.
"They don't realize how dangerous it is because they don't have one on their gas grill tank," he says. Even an empty cylinder retains some gas and leaks can lead to fires, or, when mishandled, explosions.
For example, people frequently ignore rules for transporting cylinders, often laying them in a pickup truck, where they can easily roll around. The cylinder might slide out the back or slam into the cab after a quick stop, creating a chance for the highly pressurized oxygen or shield gas to erupt if the cylinder valve is damaged.
"It can take off like a rocket," Blew says, "and cause all kinds of destruction."
There's a right, safe way to haul cylinders. "Cylinders should always, whether they're empty or full, be transported in an upright, standing position, with the valve up," Blew says. "And it should always be secured in this upright position."