Pros and Cons of Clearing Fence-rows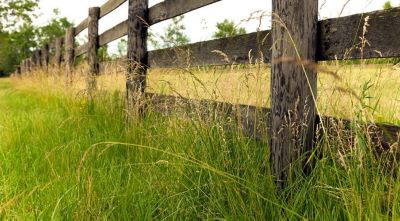 In the eastern parts of the country, Fence-rows are the remnants of forests that once covered much of the land. When farmland was divided, separated and cleared, Fence-rows of trees and shrubs were left to delineate the border between property parcels. A "clean farming" trend has caused many Fence-rows to be thinned or cut down altogether. But to clear or not to clear is a question that everyone in the country faces. You are the final judge of which practice is best for your land-management strategy. Here are the pros and cons of fencerow clearing.
Pros of Clearing Fence-rows
Fence-rows cast shade at least part of the day, and if you have a vegetable garden or are trying to grow field crops, this is a problem. Another issue for farmers is that white-tailed deer use Fence-rows for cover and often eat what's in the adjacent fields, causing crop loss. Fence-rows on the edges of horse pastures and cow pastures need to be weeded or cleared because certain types of plants can poison or sicken the livestock. Cherry, red maple, oak, buckeye and black walnut trees will sicken or kill horses, and should be kept out of horse pastures. Poison hemlock, nightshade, bracken fern and milkweeds should also be cleared out of Fence-rows bordering pasturelands. Cleaning out Fence-rows to eliminate underbrush can keep deer populations in better check and reduce problems with shade.
Cons of Clearing Fence-rows
On the other hand, many hunters and environmentalists advocate for fencerow conservation, as Fence-rows provide good cover for wildlife. Research studies have shown that leaving the fencerow alone so there is a more diverse mix of species can help control insects in field crops, especially for more mobile populations of insects. (Insects that naturally die out before moving on aren't affected by Fence-rows.)
Another reason to preserve Fence-rows is to offer wildlife areas for food and shelter. When large tracts of forest were cleared to make way for the "breadbasket" of farmland in the center of the country, many species of birds and mammals were displaced. If you're an avid bird-watcher, a fencerow is a great place to see multiple species of birds, especially during migration periods.
Other Benefits of Maintaining Fence-rows
Allowing underbrush and smaller plants to grow in Fence-rows helps control erosion. Not only is topsoil erosion a problem for farmers who lose precious fertile soil, but it is also a leading cause of pollution in streams, rivers, lakes and other freshwater reservoirs. By maintaining a healthy, dense fencerow, you can help stop erosion from being a problem in your area. If you have a vegetable garden, fencing the garden and maintaining a fencerow with diverse species can lure more pollinators to your vegetables, resulting in a larger crop.
Whether you clear or maintain a fencerow depends on your goals for the surrounding land. There are arguments to be made for both sides of the fence.