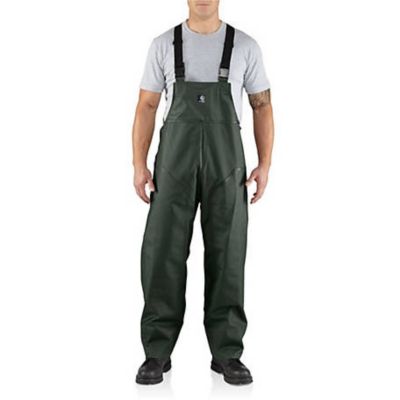 3 Reasons to Wear Overalls
Overalls have been an option in workwear long before jeans were made out of denim. The actual year they came on the scene isn't known, but mentions of a work garment with straps connected to trousers can be found as early as 1776. Overalls started being mass produced in the 1890's by Levi Strauss and Jacob Davis, and since then these durable coverings have been the number one choice workers in the field or on the job site. The popularity of overalls is due in part to their durability. And when Levi Strauss began marketing the garment to the masses, the company's slogan was, "Never Rip, Never Tear." The earliest overalls were suspenders attached to denim pants using buttons, but over time, they've developed into the popular bib style people wear today. Here are three of the many reasons to choose this time-honored, durable garment for a day on the job.
1. Pockets
When the tools of your trade consist of hand tools, pencils, fasteners and other smaller items, you can't beat overall pockets for functionality. Pockets in these garments are everywhere and located in all the right places. From loops for hammers to slots for pencils, overalls provide the organization and convenience that no other garment can. Not only are there pockets a plenty, each one is double and sometimes triple stitched to prevent wear and tear, meaning what you put in them stays in them. Some overalls even include pockets within pockets, rectangular pockets on the sides of the legs for items like screwdrivers, rulers or pliers, and large square pockets in the back upper thigh area for larger items like cell phones, order pads or tablets.
2. Adjustable
Another plus of overalls is that they are adjustable. Coveralls are built to fit certain sizes, and when they aren't bought big enough, can be short in the stride causing restricted movement. Overalls, on the other hand, have adjustable shoulder straps for a custom fit from shoulder to inseam. Overalls are also more generous through the midsection than their coverall cousins, making it easier to slip them on over pants or long underwear when working conditions make layering a must. Overalls also offer more room in the seat and thighs for comfort over clothes no matter the weather or number of layers.
3. Lining and Protection
Another advantage of overalls is their ability to protect the person wearing them from job hazards as well as weather. Denim and cotton duck are by nature weather resistant fabrics due to their tight weave and weight, making either choice great for keeping out the cold. Many brands of overalls are also lined with quilting, fleece or lightweight thermal material, eliminating the need for several bulky layers. Because of the durability of overall denim and cotton duck, people who wear them have an added layer of protection from scrapes, punctures and other skin hazards while on the job. Because the bib covers a work shirt and possibly a t-shirt, the chest area has at least three layers of protection from liquids or abrasives. Bib overalls also protect the clothes worn underneath from rain, snow, mud, oil and dirt. There's nothing quite like being able to remove overalls after a hard day on the job and your clothes be completely clean underneath.
Tractor Supply Co. has a huge selection of overalls in a variety of fabric weights, sizes, colors and insulations levels. No matter the job, Tractor Supply has your overall needs covered!