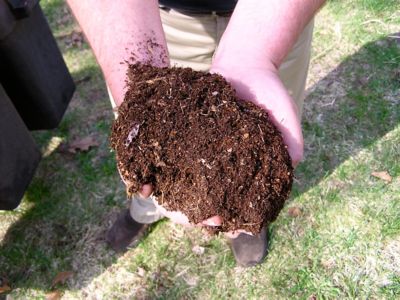 How to Build a Simple Compost Bin
by The Old Farmer's Almanac staff
Thinking of starting to compost or looking for a cleaner way to manage an existing pile? Build your own bin to make composting easy and fun.
What Is Composting?
Composting is a completely sustainable method of recycling organic waste. An ecosystem of microbes breaks down your food scraps, plant matter, and other organic material into a rich soil additive that then can be used to enrich your garden, raised beds, or plant containers.
Why Build a Compost Bin?
A compost bin is a handy receptacle for consolidating not only organic matter from inside the house, but also leaves and other yard debris. In addition to producing great soil, it also helps you to keep your property neat and tidy.
You Will Need:
• Four 4-foot metal fence posts with clips
• 17 feet of 3-foot-high cage wire or chicken wire fencing
• Tools (as needed): measuring tape, hammer or pliers, wire cutter
If possible, situate your compost bin close to the garden. Lay out a square 4 feet to each side and push or pound a fence post 1 foot into the ground at each corner, making sure that the side with clips is facing outward.
Hook one end of the cage wire fencing into the clips of one fence post. Roll out the fencing around the outside of the posts, hooking it into the post clips as you go, until you get back to the first post and clip to it. Use a hammer or pliers to crimp the clips closed against the post, securing the fencing. Cut off any overlapping fencing or just secure it with small pieces of wire or twine. The compost bin is ready to use!
What Can Go in the Compost?
Goes In:
• Coffee grounds
• Dead plants
• Dead leaves
• Eggshells
• Grass clippings
• Manure from herbivores
• Vegetable and fruit scraps
• Wood fire ash
Stays Out:
• Anything with chemicals
• Charcoal ash
• Fish and meat scraps
• Fatty and oily food, including peanut butter, dairy products, and whole eggs
• Pet waste from dogs, cats, and other carnivores
• Sawdust
When Is the Compost Ready for the Garden?
Once the bin is full, it will take about a year for the microbes to do their work and break down the organic material. The process is finished when kitchen scraps are no longer identifiable and the material is the color and texture of soft gardening soil. To speed up the compost's development, use a shovel to mix and turn over the pile once every month. If you're feeling ambitious, turn it as often as every 2 to 3 days.