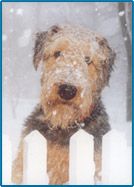 The inspiration for the Blue Buffalo Company was our beloved family dog Blue, a large breed Airedale who was one of the best pals to ever put on a collar. When Blue struggled with a history of health problems, we took a serious interest in a wide range of pet health issues. In doing so, we met with a number of experts in canine and feline nutrition, and they all confirmed to us that the good health of our pets starts with good nutrition. So, in cooperation with these experts, we developed BLUE™ dog and cat foods.
BLUE will provide your companion with the wholesome nutrition veterinarians and breeders recommend. All BLUE dog and cat foods start with real chicken, lamb, fish, duck or turkey as the first ingredient, and contain plenty of whole grains, garden vegetables and fruit. But that's just the start.
Only BLUE dry dog and cat foods also contain our exclusive LifeSource Bits®, a precise blend of nutrients and antioxidants that have been cold-formed to retain their potency. The ingredients in the LifeSource Bits are chosen to help support a healthy oxidative balance, promote your pet's immune system health and support your pet's life stage requirements.
Lastly, BLUE dog and cat foods contain no chicken (or poultry) by-product meals, and no artificial preservatives, colors or flavors. And BLUE dog and cat foods contain no corn, wheat or soy, which can trigger allergies in some pets.
BLUE and Pet Cancer Awareness

As proud owners and responsible members of the pet food industry, our lives revolve around the health of our pets. That's why we are incredibly concerned about the detrimental effects of pet cancer.
Many pet parents are unaware that pet cancer is the #1 disease-related killer of our pets, and as much as 50% of dogs over the age of 10 will die from cancer. So in 2003 we created the Blue Buffalo Foundation for Cancer Research and the Pet Cancer Awareness Program as part of our ongoing mission to raise awareness about pet cancer and money to help support various universities and clinics conducting research on the causes, prevention and treatment of dogs and cats with the disease. With the help of pet parents, our goal is to help to one day find a cure.