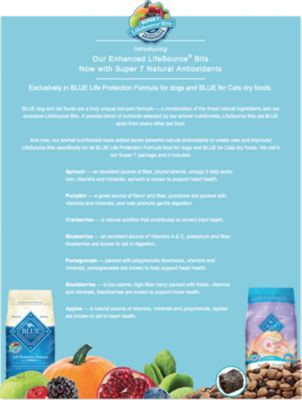 The benefits of LifeSource Bits you find in every BLUE dry dog or cat food.
Cold-formed to retain their potency, BLUE LifeSource Bits are a precise blend of vitamins, minerals and antioxidants that are formulated to help support:
Healthy oxidative balance
Immune system health
Life stage requirements
Help dogs and cats maintain a healthy oxidative balance
Virtually every day our dogs and cats are exposed to environmental factors that can negatively impact their oxidative balance. And if their biological systems are not able to rebalance this oxidative stress, it can lead to cellular destruction and other serious health issues.
As antioxidants can play an important role in reducing oxidative stress, an increasing number of veterinarians are recognizing their importance in helping pets maintain a healthy oxidative balance. This is the science that led our nutritionists to formulate BLUE's LifeSource Bits with ingredients that are rich in antioxidants. These include: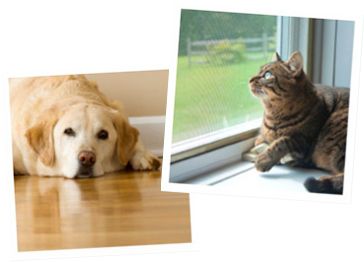 Kelp
Vitamin E
Vitamin C
Beta Carotene
Vitamin A
Blueberries
Barley Grass
Help support a dog's or cat's immune system
LifeSource Bits contain ingredients that help support a pet's immune system:
Alfalfa
Flaxseed
Parsley
Vitamin C
Cranberries
Help support a dog's or cat's specific life stage requirements
LifeSource Bits also contain ingredients that can help support a pet's changing needs from youth through his mature years. These include:
Omega 3 and Omega 6 Fatty Acids for healthy skin and coat
Yucca Schidigera Extract for joint health
Taurine for healthy eyes and heart
L-Lysine for growth and development
Vitamin D for healthy bones and tissue
Vitamin B12 for growth
L-Carnitine for endurance and fat metabolism
"Cold-Formed" Process
Recognized as a breakthrough in canine and feline health because of the multiple benefits they provide, LifeSource Bits are also a manufacturing breakthrough because they are "cold-formed" to preserve nutritional potency of the ingredients. BLUE is the ONLY brand of pet food to use this "cold-formed" process.
When you compare dog or cat foods you will see that this "cold-formed" process is an important difference between BLUE and other brands that add antioxidants and vitamins. Other manufacturers process their foods with heat as high as 350 degrees. High heat can destroy the potency of many vitamins, minerals, antioxidants and important enzymes. It's the same concept as when you cook vegetables at high heat — the longer you do, the more heat-sensitive nutrients are lost.
LifeSource Bits are manufactured separately at a lower temperature from the rest of our kibble to preserve greater potency of the vitamins and antioxidants. This way, your pet can gain as many benefits as possible from these valuable nutrients.
Water-soluble vitamins are the most sensitive to heat. Nutritionists estimate that these vitamins can lose a minimum of 30% of their potency when exposed to high temperatures, while some, like vitamin C, can lose up to 75% of their potency.
BLUE LifeSource Bits contain eight water-soluble vitamins which benefit most from the "cold-formed" process:
Vitamin B1 (Thiamin)
Vitamin B2 (Riboflavin)
Vitamin B12
Vitamin C
Folic Acid
Niacin
Biotin
Pantothenic Acid